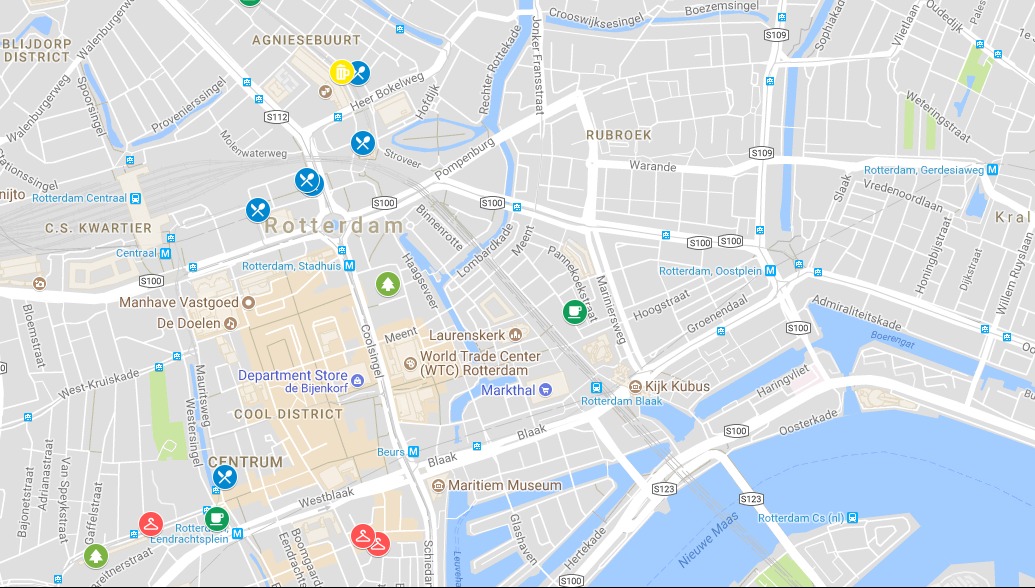 Navigating the city – MuseumNext Rotterdam
MuseumNext hits Rotterdam from the 26th till the 28th of June. The conference days will be packed with great speakers & fringe events, but if you do have some time to yourself, where should you go? It's sometimes tricky to find the nicest places to eat, relax or shop when you're in town for a conference. I moved to Rotterdam a few years ago and have made a list of my favourite places, mostly in the city centre, but off the beaten track. I've made a Google Map marking all the spots to help you find your way. Enjoy MuseumNext, enjoy Rotterdam!
Coffee & Cake
Museum people need their coffee strong and cakes sweet. Luckily, Rotterdam is prepared for this with several independent coffee roasters and cafés across the city. I tried to select a few near the conference venue and tourist highlights.
Heilige Boontjes
Conveniently located between the conference site De Doelen and the Museumpark, Heilige Boontjes is a relaxed and friendly café with a story. In Dutch, heilig boontje (holy bean) refers to someone who seems to be exceptionally law-abiding. Located in a former police station, Heilige Boontjes provides on-the-job training for (disadvantaged) Rotterdam youth, helping them to become anything from coffee roaster, to barista or sales person. We love organisations that give young people a chance & the coffee is great too! What's not to love?
Heilige Boontjes, Eendrachtsplein 3, open Mon-Fri 9:00-18:00 hours (Sat: 9:30-17:00 hours)
Nine Bar
Close to the Markthal, Nine Bar is a small, but cosy coffee place. Excellent for a quick take-out coffee, or enjoying coffee and cake on the quiet square in the back. For those more into super healthy superfood (think chia pudding and ginger shots), try Sajoer next door. They have a wide range of relatively pricy, but freshly made slow juices.
Nine Bar, Botersloot 44a, open 7 days a week 10:00-17:30 hours (opens at 9:00 hours on Tue-Sat).
Man met Bril Koffie
Slightly further afield, but voted 'best coffee of the country' in 2015 Man met Bril (Guy with Glasses in Dutch) roast their own blends, including the aptly named Heritage Coffee from Ethiopia. They also sell beans and ground coffee, as well as other coffee related merch, so a good place to score souvenirs as well. Note, don't ask the friendly bespectacled barista if he is the Guy with the Glasses. He's not, the Guy wears contacts these days, probably because he got tired of the question.
Man met Bril Koffie, Vijverhofstraat 70, open 7 days a week 8:00-17:00 hours (opens at 9:00 hours on Sunday)
Lof der Zoetheid
Surrounded by nice independent shops, Lof der Zoetheid is definitely worth the journey North for those who like cakes. Run by graphic designer turned cook Anastasia and her mum, the place looks amazing and the cakes taste divine. A perfect spot for a post-conference coffee & cake.
Lof der Zoetheid, Noordplein 1, open Wed-Mon 10:00-17:00 hours (closed on Monday the 26th of June 2017)
Food
Rotterdammers love their food, from a humble burger to Michelin starred meals. For this list, I'll focus on laid-back, affordable independent cafés and restaurants.
Bar
Just around the corner from the Holiday Inn on the Meent, Bar is a nightclub that opens early to serve affordable street food like jerk chicken, hotdogs and burgers. It's where the cool kids hang out.
Bar, Schiekade 201, open Wed-Sat 18:00-5:00 (closes 'early' at 1:00 on Wednesdays)
Burgertrut
Around the corner from Bar and near De Doelen Burgertrut serves vegan, vegetarian and organic burgers.
Burgertrut, Delftseplein 39, open Tue-Sat until 22:00 hours (closes at 21:00 hours on Sunday)
Bird
Just north of the traintrack, at the end of the wooden walk bridge Luchtsingel, which connects the city centre with the North part of town, Bird is both a Jazz & Blues club and great restaurant. You can go for their chef's menu, but we prefer their pizzas, which can also be ordered through Deliveroo.
Bird, open Tue-Thur 17:30-1:00 hours (open till 4:00 hours on Friday & Saturday)
Kaapse Maria
Near De Doelen, Kaapse Maria might be your post-conference bar & restaurant of choice. With 25 craft beers on tap as well as a nice selection of organic wines, Kaapse Maria leaves you spoilt for choice. The menu also sports a nice selection of Asian inspired sharing platters, like dumplings and roast pork belly. Unfortunately, Kaapse Maria is closed on Monday and Tuesday.
Kaapse Maria, Mauritsweg 52, open Wed-Sun 15:00 hours – midnight (opens at 12 on Saturday and Sunday)
Mono
A relatively new independent bar, just North of the city centre, Mono always surprises us with local & independent brands and great lunch dishes. We've seen it open on Mondays before, but according to their Facebook page, they are only open on Wednesday till Friday.
Mono, Vijverhofstraat 15, open Wed-Fri 9:00-19:00 (open later on Thursday and Friday when featuring bands/DJ's)
Op Het Dak
A magical rooftop restaurant in the heart of Rotterdam and surrounded by a rooftop farm, Op Het Dak offers healthy food made of mostly locally sourced ingredients.
Op Het Dak, Schiekade 189 (take the stairs to the top floor), open Wed-Sun 9:00-17:00 hours.
Local breweries
The craft beer craze hasn't passed Rotterdam by and the city is home to a number of established and new urban breweries. Most of them are located outside the city centre, but their beers can be found throughout the city. Many local bars are supportive of local independent companies, so keep an eye out for these brands. If you're a beer lover, you can buy a selection of locally brewed beers from the breweries directly, which all also have a café on-site.
Eurotrash
Recently opened and owned by the artist responsible for the Markthal ceiling decoration, Eurotrash is the most 'out there' of the bunch. Close to Bird and Mono, Eurotrash is probably located nearest to the city centre.
Eurotrash United, Vijverhofstraat 10, open Wed-Mon 15:00-1:00 hours.
Brouwerij Noordt
Based in the popular Zwaanshals district in Rotterdam North, Brouwerij Noordt offers a nice selection of 'European' beers. Shop and café are located in the actual brewery, which means you get a glimpse of the behind the scenes action when you're going for a pint or buying your souvenirs.
Brouwerij Noordt, Zaagmolenkade 46 (also accessible from Zwaanshals), shop open Mon-Fri 9:00-18:00 hours and Sat-Sun 14:00-18:00 hours / café open Wed-Fri 15:00-19:00 hours and Sat-Sun 14:00-18:00 hours.
Pelgrim
Sligthly further afield, Pelgrim is the oldest brewery of Rotterdam that's still in operation. It's located in the picturesque Oud Delfshaven, which has kept it's Old World feel and is nothing like the high-rise buildings in the city centre.
Stadsbrouwerij De Pelgrim, Aelbrechtskolk 12, open Wed-Sat 12:00 hours –midnight (open till 22:00 hours on Saturday)
Kaapse Brouwers
Kaapse Brouwers is part of the Fenix Foodfactory and we think it's Kaapse Maria's brother, although we're not quite sure. We do know they have a wide selection of homebrewed and other indie beers on tap. You can also buy Kaapse Brouwers beers in some local supermarkets.
Kaapse Brouwers, Veerlaan 19-D, open Tue-Fri 16:00-22:00 hours / Sat-Sun 12:00-22:00 hours.
Vintage
This one is a bit more niche, but since there are quite a few vintage lovers working in the museum field, I'll share some of the city's nicer vintage shops.
Margootje Vintage
Lovely shop with great selection and super enthusiastic Margo at the helm. Margootje Vintage specialises in unique pieces from the 60s till 90s. Affordable, wearable and fun.
Margootje Vintage, Zwaanshals 276B, open Wed-Fri 10:00-17:30 hours (opens at 11:00 on Saturday)
Lily Scarlet
A few doors down from Margootje Vintage, Lily Scarlet has a nice range of 50s-style dresses, partly designed by the owner herself. Designing for more voluptuous figures and sizing down (rather than for a size 34 and sizing up), her designs are comfortable, flattering and fun. You can choose between plain and pattered fabrics, depending on your style and mood. Lily Scarlet also offers a small selection of high quality vintage dresses, back seam stockings and accessories.
Lily Scarlet, Zwaanshals 374, open Tue-Sat 11:00-17:00 hours, also webshop.
Sweet Rebels
When you enter Sweet Rebels, you are bound to leave with a purchase. The say-it-as-it-is owner is knowledgeable and great at understanding different body types. If you can't find anything you like at first glance, she might vanish behind a curtain only to reappear with a dress, shirt or skirt you fall in love with instantly. This shop is magic.
Sweet Rebels, Schiedamse Vest 89B, open Tue-Sat 12:00-18:00 (if you leg it, you can go there after a long day of conference and return to your hotel with a vintage gem)
Episode
Episode is a vintage chain that can be found throughout the Netherlands. They have a nice, relatively affordable offer, but your chances of finding that true gem are a slimmer. Generally a slightly lower pricepoint than neighbour Sweet Rebels, but also less high quality products. To each their own.
Episode, Witte de Withstraat 19A, open Mon-Thur 11:00-18:00 hours / Fri-Sat 11:00-20:00 hours /Sun 12:00-18:00
Savage Lily in Disguise
Self proclaimed 'wild child' of vintage, Savage Lily specialises in the more contemporary branch of vintage, some of us might remember wearing first time around. Still, the nice selection means there might be something interesting for you there, if you're into the more types of 80s and 90s fashion.
Savage Lily in Disguise, Nieuwe Binnenweg 63B, open Tue-Sat 12:00-18:00 hours
Take 5 – away from the hustle and bustle
Attending a conference can be quite intense and you might want to take some quiet time at some point to process all the inspiring conversations and presentations. This is a list of places that help me relax.
Buiten
A lunchroom and deli  close to the Museumpark with the best courtyard garden of the city.
Buiten, Nieuwe Binnenweg 100, open Mon-Sat 10:00-18:00 hours
City Hall Courtyard
Close to Rotterdam Museum and in the middle of town, the City Hall Courtyard is a hidden quiet place, away from the hustle and bustle. I like to sit on one of the benches with a take-out coffee or tea and enjoy the sound of the few fountains in the city. The courtyard is accessible from Doelwater and Stadhuisstraat and open during the day.
Leuvenhoofd
This small and quiet green space near the Erasmus bridge gives you a great view of the river. The fragrant herbs that grow here might help you find your moment of zen.
Westerkade
On a warm day, the Westerkade will keep you cool, with its leafy promenade and light breeze coming from the river. On one side, you will see the Wereldmuseum & other buildings that survived the WWII bombs, while the other side offers you a lovely view of the Erasmus bridge & river.
Schoonoord
This leafy garden is situated near the Kunsthal and Het Natuurmuseum. It used to be a private garden, but the owners opened it up to the public during the day, which means we can now all enjoy this beautiful place opposite Het Park.
Historische Tuin Schoonoord, accessible from the Kievitslaan, open daily 8:30-16:30 hours.
You can find an overview of all locations listed here on Google Maps.